Genre Classification ISMIR 2004
In the ISMIR 2004 conference it was the first time that a comparison of state-of-the-art Music Information Retrieval algorithms was performed using agreed evaluation metrics. Participants were able to submit algorithms in 5 different categegories before the conference. Training data was provided in advance to the participants in order to test and adapt their algorithms.
ISMIR2004 Audio Description Contest
The Genre Classification task was to assign 729 audio files to 6 genres (classical, electronic, jazz_blues, metal_punk, rock_pop, world). The system could be trained with 729 different files beforehand.
In our submission we extracted Rhythm Patterns from the audio data and used Support Vector Machines for machine learning. We achieved 70.4 % Accuracy (correctly classified tracks) and thus the 4th rank. (Acc._norm is the Accuracy normalized by genre frequency).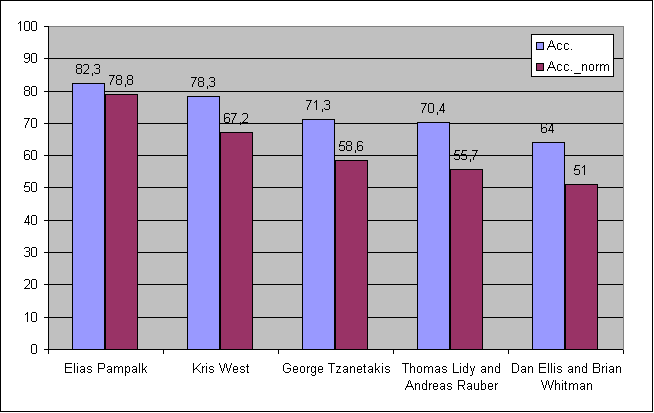 In an (unannounced) robustness test (i.e. performance on a 25 second excerpt from the middle of the audio files) three algorithms failed and the Accuracy values of the remaining two were: Lidy and Rauber 63.4 %; Tzanetakis 57.5 %.
An evalution of the our algorithm was also done on artist identification: It shows the generalization from 6 classes (genres) (55.74 % normalized Accuracy) to 30 classes (artists): 28 %. Ellis and Whitman achieved 34 %.