Algorithm
Phase 1: Boundary detection
This phase tries to detect the segment boundaries of a song, i.e., the time points where segments begin and end. The output of this phase is used as the input for the next phase.
The classic similarity matrix / novelty score approach has been used. In addition, various attempts to further improve the result have been carried out.
The figure below shows the novelty score plot of KC and the Sunshine Band: That's the Way I Like It. Vertical dotted lines indicate groundtruth boundaries.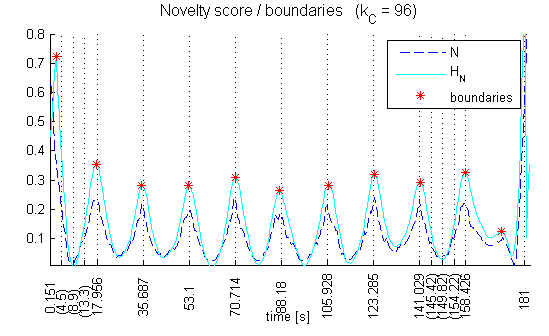 Note that automatic boundary extraction worked very well for this song: all major segment boundaries have been found (red askerisks).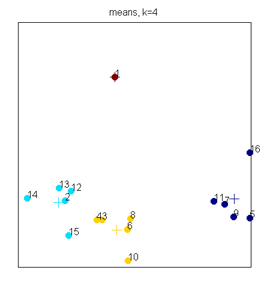 Phase 2: Structure detection
This phase tries to detect the form of the song, i.e., a label is assigned to each segment where segments of the same type (verse, chorus, intro, etc.) get the same label. The labels themselves are single characters like A, B, C, and thus not semantically meaningful.
The songs have been fully annotated. Both sequential-unaware approaches and an approach that takes temporal information into account have been used. In addition, cluster validity indices have been employed to find the correct number of segment types for each song.
The right figure (click to enlarge) shows clustering result of KC and the Sunshine Band: That's the Way I Like It song segments. Numbered circles indicate segments, crosses mark cluster centroids.
The source code of the algorithm implemented in Matlab can be obtain from the download section. For information on how to use it, please refer to the included README file (or ask the author if there are still problems).