The virtual world client needs to be running and the avatar should be positioned in an area of interest. Next the PlanesWalker application is started and the parameters are adjusted according to the virtual world (e.g. histogram sensitivity) and the required level of documentation (screenshots, text log). A 3rd party screen recording program can be used to record the virtual tour as a movie. After clicking the Start-Button a 5 seconds countdown is shown that allows the user to bring your virtual world client back into focus.
PlanesWalker is then controlling the avatar and recording in the selected documentation mode until the walk duration is reached (a red countdown of the remaining time is shown on the Start-Button), or until the Stop-Button is pushed.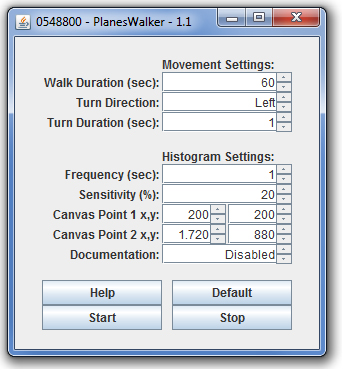 Movement Settings
Walk Duration
determines how long the program should control the avatar.
Turn Direction
changes the turn behavior once a possible obstacle was detected, possible options are: left, right or random.
Turn Duration
lets the user set how long the avatar should turn, before walking straight again.
Histogram Settings
Frequency
sets the interval, how often a histogram comparison for possible obstacle detection should be done (while walking straight).
Sensitivity
is a treshold value. If the difference between two successive histograms falls below this value, the turn behavior is triggered.
Canvas Points 1 & 2
allow to adjust the screenshot area that is used for histogram creation, by setting two opposite corners of a rectangle.
Documentation
mode offers the option to enable textbased and/or screenshot documentation of the avatars behavior. If this option is enabled the program will create a subdirectory with the current date and time as name to save the documentation files in.
Example Videos
The following example videos were taken using an external screen capture program, PlanesWalker was used to control the avatar's movement in the virtual world.
Bree-Town in Lord of the Rings Online - 2010-01-20
Getting in and out of a dead-end corner with a chicken in it, walking past the Prancing Pony Inn, and showing at 1:39 how a too low Frequency, or a too high high Sensitivity value can cause some unexpected turning when then landscape doesn't really change.
PlanesWalker 1.1 in Lord of the Rings Online
[avi, 8.8mb]
Northshire Valley in World of Warcraft - 2010-01-20
Getting away from a city wall and a bush blocking the path, walking over some small hills and back into the civilization.
PlanesWalker 1.1 in World of Warcraft
[avi, 8.2mb]
Downloads
PlanesWalker 1.1 (2010-01-20)
executable jar file
[zip, 13kb]
java source code
[zip, 10kb]