Migration Tool
During research on the longevity of audio tapes and preservation of software and video games it became clear, that data stored on audio tapes has to be migrated to a different media as soon as possible. Most of the home computer systems using this media became obsolete more than 20 years ago, which is also the expected life time of data stored on magnetic tapes (VanBogart, 1998).
By re-engineering the original system and making use of re-engineering work already done by René van den Enden, a very active member of a community still supporting the system, we developed a tool with the following major functions:
Opening an audio stream and loading the contained files (either from an audio file (WAV or FLAC) or directly from an audio-in device)
Opening files in the C7420-native file format (binary streams converted from WAV-file)
Saving the opened audio stream as a C7420-native file format (binary stream)
Saving data in a non-obsolete format (screenshots as PNG, basic-programs and arrays as text files, binary data as binary)
Saving data as an audio stream (either to an audio file (WAV or FLAC) or directly onto the standard audio-out device)
Opening and saving compressed Zip-archives containing a collection of migrated files
Creating new files of the different formats in the application (including syntax highlighting for BASIC-programs)
Editing images and conversion of PC-images to C7420 screenshot-format
The tool is written in JAVA to be operating system and hardware independent. It can be downloaded in the
Files
section below. After starting the tool
File->Import
can be used to extract data from audio files or other sources,
File->Export
is used to encode the data again to audio files or the default audio device. Extracted data can be migrated to non-obsolete formats (e.g. CSV, PNG) using
File->Migrate selected Tab
.
The screenshot below shows the migration tool with an image that has been extracted from the waveform and two other tabs containing the "Hello World" program and the "Hello World" string.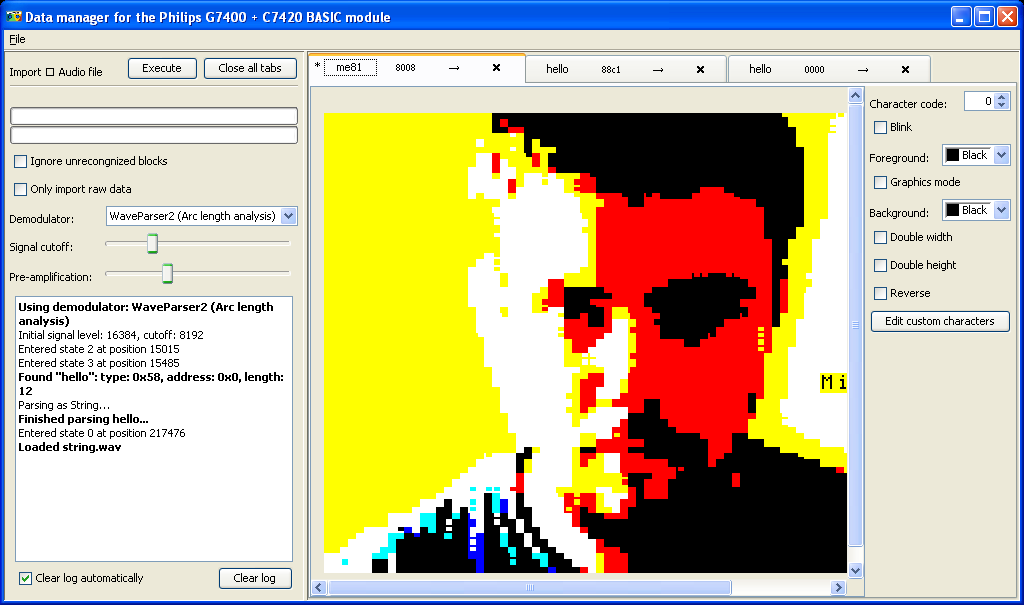 (Click image to enlarge)